2021
2020
2019
2018
2017
2016
2015
2014
2013
2012
2011
2010
2009
2008
2007
2006
2005
2001
Punt Gun 2009-12-25 05:20 UTC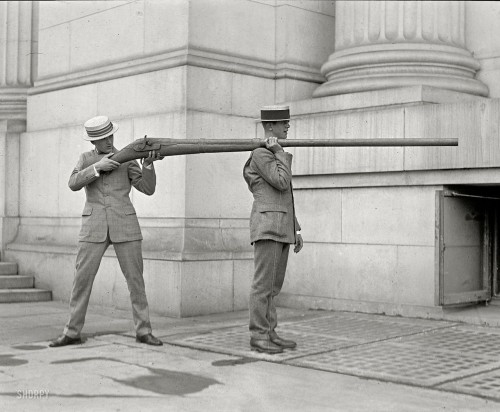 Opera Mobile web browser for smart-phones 2009-12-03 20:42 UTC
I just tried the Opera 10 beta for my Windows Mobile 6 PDA. This browser really amazed me. It makes some of desktop browser features available for phones. Immediately, I noticed that full page web pages appear almost as they do on my desktop. Menus work, links highlight, and google maps almost work. One thing really nice I discovered when I pressed the up-down-left-right directional keypad is that a mouse pointer appears. It hovers over links making them highlight. It activates popup menus. And when I moved the pointer all the way down, it scrolls the page.
Then theres tabs. In a previous version, it supported three tabs. This beta version supports more than three. I haven't tested what the limit is. There's a "tabs" button that brings up a toolbox with thumbnails of open pages. Each thumbnail shows a preview of the page in that tab.
The same goes with the "start page". This opens up with nine boxes. Occupied boxes show a thumbnail preview of the page bookmarked. Although there's room for improvement here. What it shows on my unit is the upper left corner of the page linked.
The browser does seem to crash on some websites. For example LINK



There are some things I wish for. There aren't a lot of things you can configure here. Then there's this feature that I'm used to when I close my desktop browser, it save currently opened tabs and reopens them next time. The Opera mobile does not save any pages.

Opera's website has a "mini" and a "mobile". The difference is that one is bigger. The "mobile" is good if you have a fast PDA phone/smart phone. If you find your device to be slow to begin with, you'd probably want to try the "mini".

LINK

Motorola EM326g slider phone 2009-11-20 20:09 UTC
The latest slider phone from Motorola has some very good features, but it is a bit buggy and getting to some features is illogical.
The phone has a slide-out phone keypad. When closed there are six unprocted buttons. Two of which are soft buttons. The left soft button is menu on the home screen and the right one launches the browser. Between the three left buttons and the three right buttons is a ring for left-right-up-down and a single center button.
The buttons on the face and on the hidden keypad feel very cheap. It's a thick sticker on top of membrane buttons so be careful. You don't always know if a button has been pressed because you don't really hear or feel a click. Now, I don't expect the phone to fall apart during normal use. I just don't see that happening.
It has a surprising nice camera. 1.3 mega pixel. No zoom or focus. The length of the tiny camera is less than 1/4 of an inch. There's no video with this camera. Its also very slow, but for the price... You can choose to store photos on a micro SD card protected by the back cover inside. Max 2GB. The charger/data port is standard mini-USB. Just plug it in and you get a drive letter on your computer. You probably want to let the camera format the card first.
The whole camera just feels cheap.
The soft button for the browser cannot be disabled. Each time you press it, a minute is deducted.
There's two speakers. One is the ear piece. The other one is for the speaker-phone and to play music. The speaker is behind the circle directional button under a mesh.
Theres an mp3 player and FM radio built in. The mp3 player plays through the speaker or through the headphone jack. The FM radio only plays when there earphones are plugged in. The FM radio also plays through the speaker but only when earphones are plugged in and you have to choose from the Options menu. Note that the earphone jack cannot be plugged into an amplifier or your car stereo. Nothing line-level will work. There needs to be a load. I've never seen this behaviour. There is a work-around but its cumbersome. You would need a splitter. From the phone you would plug in a Y-splitter with one end to earphones and the other to your car stereo. The signal would be very weak of course.
I already found some bugs. When I looked at the call logs, I got an error. But after making and receiving some calls it finally shows calls missed, placed etc... Surprisingly there's no "all calls" log. Another bug I found is when I first switched the camera from the default VGA 640x480 to 1.3 MP, the camera would just idle. After I took the battery out and put it back in and turned on the phone and tried to access the camera, I got a camera saying its not ready. After a while I accidentally got it to work at 1.3MP.
Another oddity is that they put the phone ring volume and ring tone under Ring Styles. And to confuse things further there are profiles for loud, soft, vibrating, vibe and ring, and silent. Each profile has ring volume, ring tone, and settings for button tones and various other tones. So when you adjust the loudness using the two buttons on the side of the phone you may get a different ring tone and an unexpected loudness. For example, I had it on the "Loud" profile. I didn't realise that in the "Loud" profile I had the ring volume set low. So I set the volume to the max and when the phone rang, I didn't hear it. Luckly, when you set the phone to silent, it's silent.

LINK

Samsung SGH-T401G candy bar phone 2009-11-20 19:56 UTC
This guy is the latest from Samsung. It's not a touch-phone nor is it a smart-phone.
It has a slide out keyboard. It is a full keyboard. The phone keypad feels solid, but it's one large piece not individual numbers. But for the price, its a great phone
It has an annoying browser soft button from the home screen. It cannot be disabled. There's no way to mechanically remove the button just to disable the browser. It's one of two soft buttons, so you lose other functionalities if you remove the button.
It's got a surprisingly good camera for the price. 1.3 mega pixel. No zoom or focus of course. But the images came out pretty good. Though not a replacement for a camera. It also takes short videos. Both photos and videos can be stored on the a micro SD card. The only problem is that it has a cable that is not easy to find. So you probably want to put the card in a card-reader to get the pictures.
There's a micro SD card protected by the back cover inside.
Samsung has not produce a downloadable manual yet. A similar model is the T459 Gravity.

LINK

LG 600G flip phone 2009-11-20 19:50 UTC
The LG 600G is a very small and thin flip phone. There's no antenna sticking out - it's built in. The whole phone is about 3.5 inches long. I have the phone on net10.com.
The only complaint is that annoying browser button. If you accidentally press it, you get charged 1 minute. So, I'm going to remove the membrane under the button. There's no way to disable it.

LINK

Toshiba Qosmio X505-Q830 2009-11-20 19:45 UTC
I saw the reviews and pictures. It's specs are fantastic. Intel i7 processor with four cores - OS sees eight.
I saw it at a computer store and I was turned off only by their unusable keyboard. The keys were very short stroke and their surfaces are very smooth. Almost unusable. The keys look very nice, but I just can't type on them. The machine is huge and heavy, I had expected a normal textured full-stroke keyboard. It does have a numeric keypad.



Could Extinct Animals Be Resurrected from Frozen Samples? 2009-08-20 06:59 UTC
Futurists have proposed that extinct animals could be resurrected some day via cloning of their DNA extracted from bone or frozen tissue.
...a new project to store tiny samples of tissue from endangered animals at New York's natural history museum again prompts questions on whether this approach might be insurance against extinction...
...Spanish biologists resurrected an extinct Spanish goat, the Pyrenean Ibex, this year, cloning it from frozen tissue collected before the species' demise in 2000. The clone survived for seven minutes after birth before succumbing to a lung infection...




If they turn that hamburger back into a cow, do they get back the original cow?
Cryonics sounds nice, but are you really bringing back the original person who died?
Even if you bring back the body, its a walking body. What about the soul that left when the person died?
You need to put back the original soul. Where would you find it?

more LINK

Earliest Known Sound Recordings Revealed 2009-06-02 18:39 UTC
Researchers unveil imprints made 20 years before Edison invented phonograph
...earliest known recordings. A bunch of wavy lines scratched by a stylus onto fragile paper that had been blackened by the soot from an oil lamp date from 1857.
Parisian inventor Edouard-Leon Scott de Martinville never intended for the soot-lined imprint of the sound waves to be played back, the historians reported. But the inventor hoped the visual patterns of the sound waves he had recorded using a hornlike device with the stylus attached resembling an artificial ear ? called a phonautograph ? might one day be read like sheet music to recreate a singer?s voice or the timbre of a musical instrument.
LINK

Great Wall of China longer than previously thought 2009-04-28 19:12 UTC
The most comprehensive and technologically advanced survey of China's Great Wall has discovered the ancient monument is much longer than previously estimated, state media reported on Monday.
The wall, built over centuries to keep foreigners out of China, stretches for 8 851,8 kilometres, much further than common estimates of 5 000 kilometres, according to the findings of the survey.
LINK

1.5 Million Year Old Microbe Colony Found in Antartic Ice 2009-04-17 14:07 UTC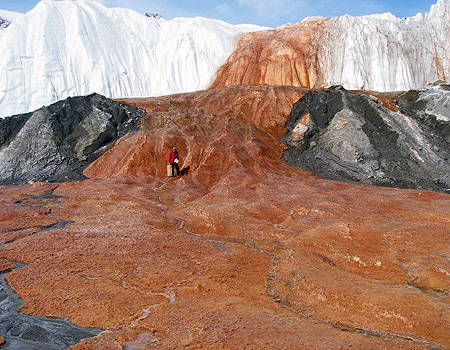 A living time capsule of sorts has been found buried under hundreds of feet of Antarctic ice -- a colony of microbes that have been sealed off from the rest of the world for more than 1.5 million years.
The microbes, which live without light or oxygen, were detected in meltwater flowing out from Taylor Glacier, one of the outlet glaciers of the vast East Antarctic Ice Sheet in the otherwise ice-free McMurdo Dry Valleys.
Genetic tests suggest that the microbes are similar to ones found in marine environments today, which the researchers think are a remnant of a larger population of microbes that once lived in a fjord or sea that was cut off when sea levels fell and left the pool behind. The pool was eventually capped off by the flowing glacier.
The water the microbes dwell in averages a temperature of 14 degrees Fahrenheit (minus 10 degrees Celsius), but doesn't freeze because the water is three to four times saltier than the ocean.
LINK

Nine year old boy genius writes application for iPhone 2009-02-10 14:53 UTC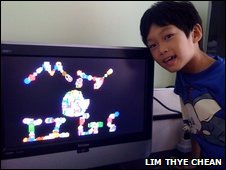 Little Lim Ding Wen in Singapore has written a painting application for the iPhone.
He created the finger painting program, known as Doodle Kids, for his two younger sisters aged three and five.

The program allows iPhone owners to draw images on the handset's touch screen using just their fingers.
The program has been downloaded more than 4,000 times from Apple's iTunes store in less than two weeks.
While most children of his age are painting or drawing with crayons, Lim Ding Wen has been programming.
Lim, who is now fluent in six programming languages, first started using a computer when he was two-years-old, discovered programming aged seven, and has since completed more than 20 programming projects.
LINK

Document filed: New Hampshire challenges the US Federal Government? 2009-02-03 14:30 UTC

For those who don't know it, the US Government is supposed to be limited in power. The power is supposed to go to each of the United States. States being plural. For each state, the power is to the people. You can break it down to county, city/town, etc... but ultimately, the power is in the hands of the people. The government is the people.

LINK

Work at home -- but this time its a list from yahoo.com 2009-02-02 13:39 UTC

1. Alpine Access
alpineaccess.comLINK


Job Title: Customer care professional





2. HireMyMom.com
hiremymom.comLINK


Job Titles: Virtual assistant, professional blogger





3. Sylvan Online
sylvan.comLINK


Job Title: On-line certified teacher





4. National Shopping Service
nationalshoppingservice.comLINK


Job Title: Mystery shopper/researcher





5. oDesk
oDesk.comLINK


Job Title: Various professionals





6. Working Solutions
workingsolutions.comLINK


Job Title: Transcriptionist, customer service representative





7. Language Lab
languagelab.comLINK


Job Title: Teacher, actor, customer service representative





8. 1-800-FLOWERS
1800flowers.comLINK


Job Title: Customer service representative





9. Aetna
aetna.comLINK


Job Title: Account manager, negotiator, customer service representative, nurse and more





10. Elance
elance.comLINK


Job Title: Legal, Web design, engineering, admin, marketing or writing professional

LINK