Air car 2008-11-03 09:27 UTC
A new carmaker has a plan for cheap, environmentally friendly cars to be built all over the country

Its projected cost is $20,000USD. It can run on gasoline, diesel, ethanol, or vegetable oil. It can be plugged in overnight to compress air which powers the motors.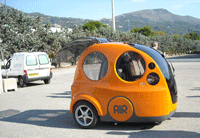 LINK

---
Comments:


All comments are filtered before moderator review.
Only common ASCII characters allowed.
Comments are truncated to 2000 characters.
Names are also kept short by truncation.